Digital marketing companies help build a presence on internet marketing channels. They help define goals, create a strategy, execute within a budget, and track ROI. Here are the top digital marketing companies in the UK.
Red Hot Penny
Red Hot Penny is a search engine optimisation company based in Workingham, UK that helps organisations focus their strategy for greater success, communicate with their audiences in a unique and crowded space, and improve their reach. Their flagship services include pay-per-click (PPC), SEO, and content marketing.
Global Search Marketing Ltd
Global Search Marketing Ltd is based in Birmingham, UK and is home to certified professionals in Google Search, Google Display Advertising, and other marketing services. The firm offers pay-per-click, SEO, and content marketing services to small and mid-market customers especially those from the e-commerce industry.
The Good Marketer
The Good Marketer is well-known for its targeted social media marketing works. Located in London, UK, they specialise in social media marketing and pay-per-click while maintaining some presence in SEO and other digital marketing services.
Digital Media Team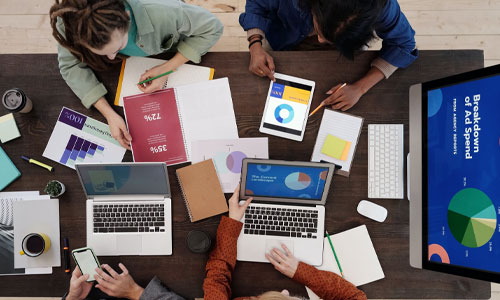 DMT prides itself on using intelligent marketing software to improve performance. Their services include paid social, PPC, email marketing, Amazon marketing, as well as audits and reporting. They are based in Manchester, UK.
Rozee Digital
This firm specialises in helping businesses grow using Facebook and Google Ads. They are experts in PPC services, social media marketing, and conversion optimisation for small and medium-sized businesses in various industries.
Enveritas Group
Based in London but working in over 70 countries, Enveritas Group provides digital marketing services like content marketing, social media marketing, and digital strategy for global brands.
Favoured
This firm specialises in providing a design-centric approach to mobile and app marketing for their clients. They also offer social media marketing and other forms of advertising.
Pearl Lemon
Pearl lemon is regarded as a dependable search engine optimisation expert. The firm's other specialties include UX design, UI, brand presence and visuals, voice services, email marketing and more.
Nara Media
This company is based in London and specialises in mobile and app marketing, digital strategy, and social media marketing, with a focus on Facebook, Instagram, Snapchat, and more.
Laddee.io
This London based digital marketing company offers services such as digital strategy, PPC, and conversion optimisation in industries like business services, e-commerce, and consumer products and services.
There are so many UK companies that offer digital marketing services, but these are the top ones. Connect with us for more information.